8 Day Guided Tour of Morocco from Casablanca / Marrakech
Day 1 : Casablanca (or Marrakech if you prefer)
Day 2 : Casablanca - Meknes- Volubilis - Fes
Day 4-5 : Midelt - Merzouga
Day 6-7 : Merzouga - Ouarzazatte - Marrakech
Day 8 : Marrakech - Casablanca
Upon arrival in Casablanca, the economic capital of Morocco, you will be picked up from the airport and brought to your hotel Casablanca, where you check-in and relax for the afternoon. Depending on the weather, you can choose to have an optional tour of the Hassan II mosque, said to be one of the largest mosques in the world.
After breakfast, we drive to Fes. On the way, stop in Rabat, the capital and residence of the king. Lunch there and time to enjoy the beautiful coastal town. After lunch we continue to Fes, the spiritual capital of Morocco.
After breakfast you will start your tour to the medina of Fes, which has one of the largest walls in the world in cities. You can explore the narrow streets lined with fresh fruit, mounds of spices, woven Berber carpets and many art objects of Morocco. A visit to the Palazzo Re, tanneries, and potters are just a few places you will explore. For lunch you can eat in a traditional restaurant in the heart of the medina. The we drive to Midelt where we stay overnight in hotel.
Most of the day will be spent winding your way through the beautiful forests, cliffs, jagged and Berber villages as you cross the Atlas Mountains and begin to descend towards the Sahara Desert. In the middle of the road, stop for lunch in the town of Midelt, famous for its fossils and rocks. Then we continue to Erfoud and Rissani. Next day we head off in about 4 wheel drive through the barren land to the majestic sand dunes sahara. Around the time of sunset is time for a camel ride for 2 hours to the oasis where you will spend the night in Berber tents (Dinner is included). This might be optional if you prefer to return to the hotel to sleep.
After breakfast, you will return by camel to 4x4 and back to Erfoud. From Erfoud we start behind the Atlas Mountains in the path of the Todra Gorges. In the afternoon, there will be a walk in the towering Todra Gorges (300 m high). The valleys of the picturesque river to make a nice trip to the south-east of Morocco. Next day we departure to Marrakech via Ouarzazate. You will visit one of the jewels of Morocco-Kasbah Ait Ben Haddou. After lunch, we head over the mountains to Marrakech. Once in Marrakech, you will check in your hotel, then turning to Djemaa el-Fna, the central square of the medina. The famous Djemaa el-Fna, is one of the attractions of the center of Marrakech. Dinner and overnight in Marrakech.
This day we will head back to Casablanca. Lunch will be found along the way.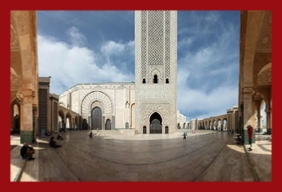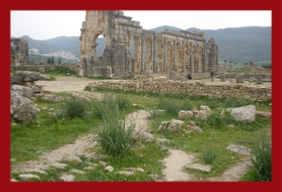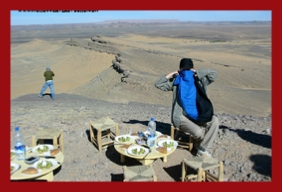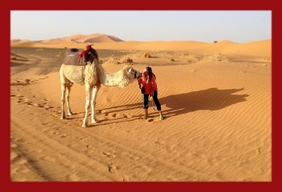 INCLUDED / EXCLUDED IN THIS TOUR :
Tour included :
- Tour in 4x4 vehicle or Minibus (with A/C)
- English speaking driver/guide , Fuel
- Hotel overnight stays (breakfast &dinner)
- Camel ride and 1 night in desert camp
Not included :
- Flight , Lunches, Drinks
- All what is not mentioned above