15 day fossils and minerals collecting tour from Casablanca (can start from Marrakech)
Day 1 : Casablanca to Fes and Midelt
Day 3 : Midelt to Merzouga desert
Day 6 : Merzouga -Erfoud - Alnif
After breakfast at the hotel departure towards Azrou in the heart of the middle atlas, Picnic in the cedar forest with the monkeys then head to the famous Michlifen extinct volcano rich in olivine and magna, then to the Jurassic site next to Timahdite rich in brachiopods bivalves and speriferes, if any time is lift we can visit cretaceous site rich in black shark teeth next to Bakrit. Evening at a 3 stars hotel in Midelt.
After breakfast departure to visit Mibladen mines rich in barythe cerusite , also vanadinites but very hard to find then head to Ahouli old mine, to visit old mining equipments. Picnic in the valley then go to Sidi Ayad to collect azurite malachite and flurite evening back to same hotel in Midelt.
After breakfast head down to Ziz gorges where we will collect brachiopods bivalves from Jurassic, then to Ziz valley to collect echinoderms cidaris micrasteres from cretaceous cenomanian Picnic in the valley then down to Erfoud city. Evening in the Erg Chebbi sand dunes night in the inn.
After breakfast we head south Merzouga towards Mifis mine rich in laid and manganaise, fifty years ago , now desert except same workers looking for massive barytine.then go to kemkem paleoriver beds rich in fish crocodiles and dinosaurs bones. Picnic there then go to an old mine called filon 12 rich in vanadinite quartz citrine and more. Then Devonian bed rich in rolled phacops evening back to the same hotel in the dunes.
After breakfast head north Merzouga collect goniatites made of goethite pyritised some times due to the big explosion end Devonian, then collect enrolled Devonian trilobite , then sand roses in the border then Picnic in a sacred oasis full of palm trees. Afternoon collect sand roses and fish, crocodiles, dinosaur's bones in a cretaceous site Safsaf evening back to same hotel in the dunes.
Visit the famous Erfoud quarry ten crinoids' mine to see the extraction collect few Devonian trilobites at Boutchrafine mount. Picnic under a palm tree afternoon visit the factory where all the big blocs are cut and manufactured to tables, dishes, book ends, and decoration items. Then head to Alnif. Evening at a small hotel in half board.
Day 9-10 : Alnif - Mharech - Ouarzazatte and Ait Ben Haddou
We will visit Cambrian mine where the big trilobites came from such as cambropalace and paradoxidises. Picnic in the desert.
Afternoon visit the Ordovician mine of calymes and flexicalymenes de jbel Tiskaouine. Evening back to the same hotel in Alnif.
Visit jbel Isoumour Trilobite post paradise, visit Laatchana riche in different kind of trilobites afternoon collect of black peritised Lakrabis. Evening in a family inn in Mharch.
Head back to Alnif visit Serradrar site Silurian rich in orthoceras then Draa valley rich in Ordovician trilobites' big parts of geant trilobites evening at Ouarzazate hotel 3 stars.
Next day we will make excursion to Eocene site next to a famous Kasbah AIT BEN HADDOU Universal patrimony to collect echinoderms and nautilus mycrasters evening back to same hotel
Day 11 : Ait Ben Haddou - Marrakech
Cross the high atlas thru Tichka pass mid day Picnic with a miner at Sidi Rahal mine riche in amethyste agate chalcedonies. After head to Marrakech evening at a hotel 3 stars.
Head to the phosphates. Picnic with the mines collect few shark teeth, evening in a hotel close to the airport.
Day 14-15 : Marrakech or Casablanca if needed
Transfer to the airport. Depending on your departure time.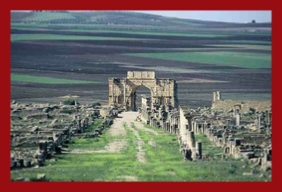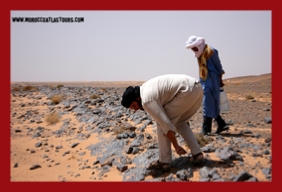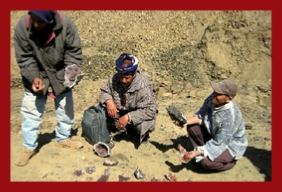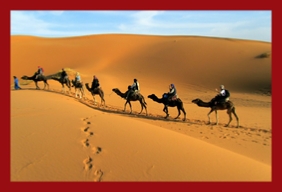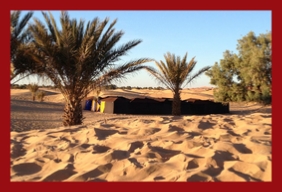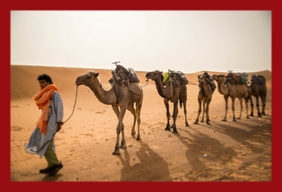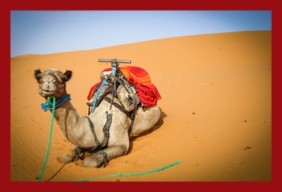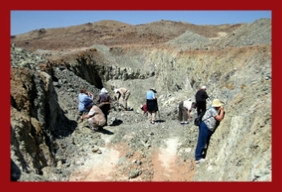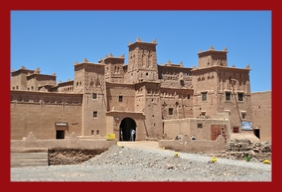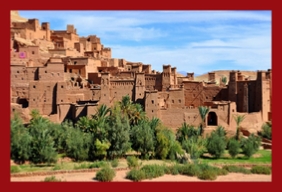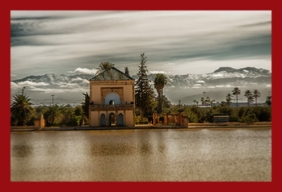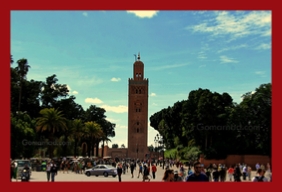 INCLUDED / EXCLUDED IN THIS TOUR :
Tour included :
- Tour in 4x4 vehicle or Minibus (with A/C)
- English speaking driver/guide , Fuel
- Hotel overnight stays (breakfast &dinner)
- Camel ride and 1 night in desert camp
Not included :
- Flight , Lunches, Drinks
- All what is not mentioned above